Obstetric anaesthesia and analgesia is the only area of anaesthetic practice where two patients are cared for simultaneously. The anaesthetist must take account of many risks related to the pathophysiology of pregnancy [1]. The application of general anaesthesia is a rather complicated issue, even in the early postnatal period [2]. The risk of difficult airway management is considered to be up to 10 times higher in pregnant women (1:250) than in the general population (1:2500) [3]. On the other hand, the risk of pulmonary aspiration of gastric contents, or the development of Mendelson's syndrome, has not been proved to be higher [2, 4]. The unanswered but very relevant question is whether the above-mentioned risks persist even in the early postnatal period, and whether anaesthetists consider them in their procedures; i.e., whether they prefer the administration of neuraxial blockade in these procedures, and the airway management by orotracheal intubation in case of general anaesthesia, as is the case of anaesthesia for caesarean section [5, 6]. The prospective observational study OBAAMA-CZ, which was carried out in November 2011, showed that the frequency of neuraxial anaesthesia during a caesarean section has increased in the Czech Republic, but is still low when compared to Western countries. The OBAAMA-CZ study also showed that anaesthesia is widely used during the peripartal period in the Czech Republic. Results of the OBAAMA-CZ study were published in the period 2012–2015 [7, 8, 10, 11].
The OBAAMA-INT study has been designed as a prospective observational international multicentre study. It has been registered in the international database of clinical trials (ClinicalTrials.gov), where it has been assigned the ID NCT02380586.
Primary objective of the project:
Determining the current anaesthesia practice for procedures carried out during the peripartal period in the Czech Republic and Slovakia.
Secondary objectives of the project:
Determining the prevailing forms of obstetric anaesthesia and analgesia.
Describing the current anaesthesia practice during the peripartal period including the development of complications.
Other important information:
Expert guarantor: Petr Stourac, MD, PhD
Partners: health care facilities providing anaesthesia in the peripartal period in the Czech Republic and Slovakia (you can find more detailed information – in Czech language only – on the website of the OBAAMA-INT project)
Brief overview of results: you can find more detailed information – in Czech language only – on the website of the OBAAMA-INT project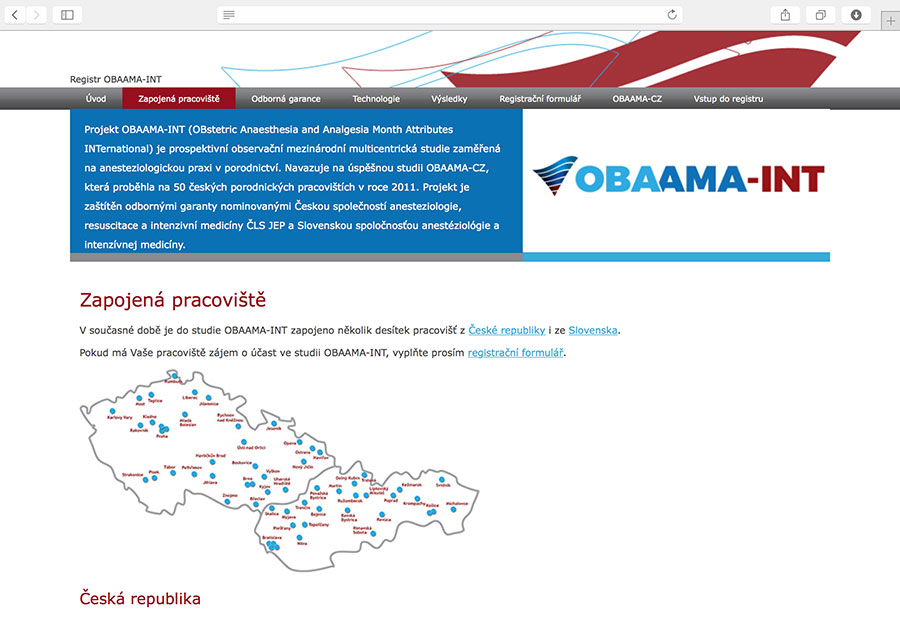 References
Chestnut D et al. Chestnut's Obstetric Anesthesia: Principles and Practice. 2009, Elsevier. ISBN 978-0-323-05541-3.
Bláha J, Nosková P, Klozová R, Seidlová D, Štourač P, Pařízek A. Současné postupy v porodnické anestezii II – celková anestezie u císařského řezu. [article in Czech language] Anesteziologie a intenzivní medicína 2013; 24(3): 186–192.
McDonnell NJ, Paech MJ, Clavisi OM, Scott KL. Difficult and failed intubation in obstetric anaesthesia: an observational study of airway management and complications associated with general anaesthesia for caesarean section. International Journal of Obstetric Anesthesia 2008; 17(4): 292–297. doi: 10.1016/j.ijoa.2008.01.017.
Bláha J, Nosková P, Klozová R, Seidlová D, Štourač P, Pařízek A. Současné postupy v porodnické anestezii I – peroperační péče u císařského řezu. Anesteziologie a intenzivní medicína 2013; 24(2): 91–101.
Boutonnet M, Faitot V, Katz A, Salomon L, Keita H. Mallampati class changes during pregnancy, labour, and after delivery: can these be predicted? British Journal of Anaesthesia 2010; 104(1): 67–70. doi: 10.1093/bja/aep356.
Fenton PM, Reynolds F. Life-saving or ineffective? An observational study of the use of cricoid pressure and maternal outcome in an African setting. International Journal of Obstetric Anesthesia 2009; 18(2): 106–110. doi: 10.1016/j.ijoa.2008.07.006.
Stourac P, Blaha J, Klozova R, Noskova P, Seidlova D, Brozova, L, Jarkovsky J. Anesthesia for Cesarean Delivery in the Czech Republic: A 2011 National Survey. Anesthesia & Analgesia 2014. [Epub ahead of print] doi: 10.1213/ANE.0000000000000572
Štourač P. Obstetric Anaesthesia and Analgesia Month Attributes – reálná zpráva o anesteziologické praxi na českých porodních odděleních. [article in Czech language] Anesteziologie a intenzivní medicína 2013; 24(2): 81–82.
Štourač P, Bláha J, Nosková P, Klozová R, Seidlová D. Současné postupy v porodnické anestezii IV. – anesteziologické komplikace u císařského řezu. [article in Czech language] Anesteziologie a intenzivní medicína 2014; 25(2): 123–134.
Štourač P, Bláha J, Nosková P, Klozová R, Seidlová D, Jarkovský J, Zelinková H. Časná poporodní anestezie z pohledu studie OBAAMA-CZ – prospektivní observační studie. [article in Czech language] Anesteziologie a intenzivní medicína 2014; 25(5): 341–347.
Štourač P, Bláha J, Nosková P, Klozová R, Seidlová D, Jarkovský J, Zelinková H. Analgezie u porodu v České republice v roce 2011 z pohledu studie OBAAMA-CZ – prospektivní observační studie. [article in Czech language] Česká gynekologie 2015. [Accepted]