Achondroplasia is a rare genetic condition, which affects growth and development of the human skeleton. People with achondroplasia are typically very short, with their stature reaching on average only about 130 cm. There is no cure for achondroplasia yet, but scientists believe there is a cure in sight. It is therefore important for patients, their families and physicians to be able to connect and to share information.
The ReACH registry makes it possible to share experience and information concerning treatment of achondroplasia patients in clinical practice. It also helps scientists to understand better clinical aspects, incidence and epidemiology of this condition in Central Europe. The registry will also make it possible to search for volunteers to participate in clinical trials focused on achondroplasia. Finally, the registry enables patients and their families to provide feedback to health care professionals regarding the quality of care and how it might be possibly improved.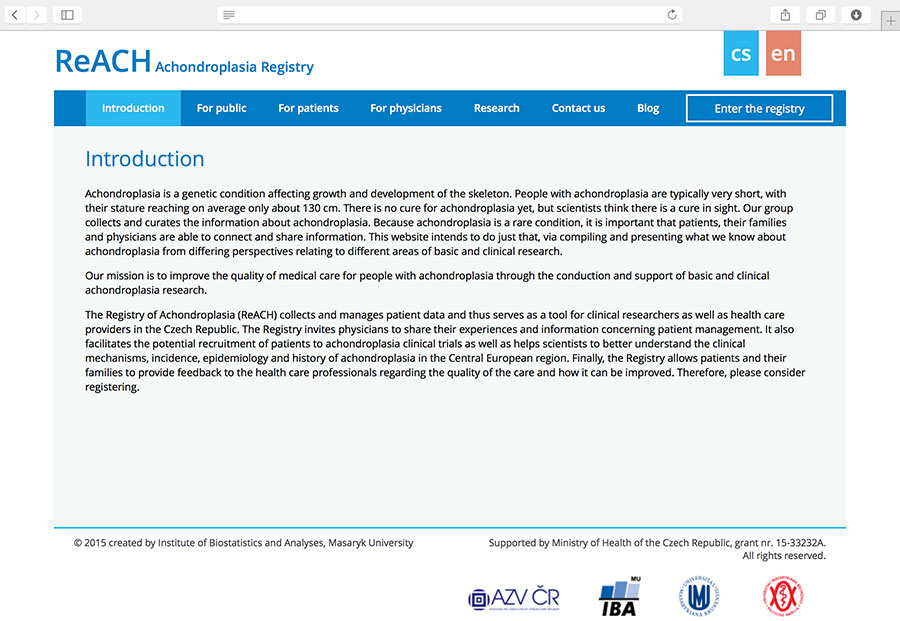 References
Krejčí P. The paradox of FGFR3 signaling in skeletal dysplasia: why chondrocytes growth arrest while other cells over proliferate. Mutation Research/Reviews in Mutation Research 2014; 759: 40–48. doi: 10.1016/j.mrrev.2013.11.001.
Foldynova-Trantirkova S, Wilcox WR, Krejci P. Sixteen years and counting: the current understanding of fibroblast growth factor receptor 3 (FGFR3) signaling in skeletal dysplasias. Human Mutation 2012; 33(1):29–41. doi: 10.1002/humu.21636.
Pejchalova K, Krejci P, Wilcox WR. C-natriuretic peptide: An important regulator of cartilage. Molecular Genetics and Metabolism 2007; 92(3): 210–215. doi: 10.1016/j.ymgme.2007.06.014.
A comprehensive list of publications is available on the website of the ReACH project.